by Steve Williams
September 27, 2012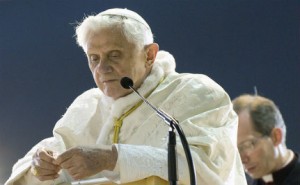 Pope Benedict XVI told French Bishops recently that they must do everything they can to resist gay marriage as it "threatens" society, going on to imply that gay people aren't fully developed humans.
The Pope's comments were made during a September 21 speech at Castel Gandolfo, whereby he reportedly told his assembled religious brethren that "The family is threatened in many places by a faulty conception of human nature." Some translations have him saying the word "defective," in fact.
The Pope went on to say that he believes "Marriage and the family are institutions that must be promoted and defended from every possible misrepresentation of their true nature, since whatever is injurious to them is injurious to society itself."
This, apparently, in direct reference to France's recently elected socialist government's plans to introduce and make law same-sex marriage. Given that French Prime Minister Jean-Marc Ayrault's party controls parliament, it seems likely this legislation will pass.
The Pope, attempting to answer the inevitable charge that the Vatican is on the wrong side of history, played the God's judgment card when he said that this view was "not at all backward-looking but prophetic."
Perhaps most startling of his remarks on gay marriage and secularization was his saying the Church must "promote those values that permit the full development of the human person."
We can infer from this that the Pope has decided that all gay people — in fact, all people who don't adhere to the Vatican's interpretation of moral values — are "less than" fully developed humans.
As has become standard, the Pope also took time to lob a verbal grenade at the growing move toward secularism. He encouraged more outreach to the young in order to engage, and called for a "creative response" to secularization.
While many have condemned the Pope for this latest diatribe, one in a long line of attacks on gay people and progressive values as a whole, it has been pop megastar Lady Gaga who has perhaps been the most blunt.
Gaga, herself a person with religious beliefs, said in a Sunday interview with Europe 1 that "What the pope thinks of being gay does not matter. It doesn't matter to the world. It matters to the people who like the pope and follow the pope. It's not a reflection of all Christians. It is not a reflection of all religious people. It's a point of view of one person."
She ended that particular remark with an empowering message to her gay audience, saying: "And to all the gay people here. May you live and love each other until the end of time. And I hope you will have the human right to breed as an entirely equal, valuable and special member of society."
Lady Gaga, who last year set up the Born This Way foundation to help bullied children, with a particular nod to her LGBT fan base, has been an outspoken advocate for gay rights, including twice having recorded videos to urge on the public in the fight to end Don't Ask, Don't Tell.
Pope Benedict has previously called on other once strongly Catholic nations to rally and turn back the clock on marriage equality. In January he received staunch criticism for saying that gay marriages "threaten human dignity and the future of humanity itself."
Read more: http://www.care2.com/causes/pope-decides-gay-people-arent-fully-developed-humans.html#ixzz284DysJwS