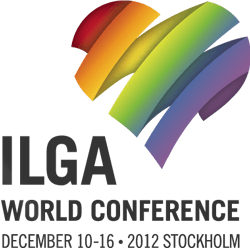 On behalf of the Board of the International Lesbian, Gay, Bisexual, Trans and Intersex Association (ILGA), and hosts RFSL, The Swedish Federation for Lesbian, Gay, Bisexual and Transgender Rights, it is our pleasure to invite you to attend the XXVI ILGA World Conference to be held in Stockholm, Sweden, between the 10 and 16 December 2012.
The theme of the conference will be "Global Rights, Global Respect". Since the World Conference in Sao Paulo in 2010, we have many things to celebrate, ILGA has gained consultative status with the United Nations – ECOSOC status; the first-ever United Nations high-level panel on violence and discrimination based on sexual orientation and gender identity was held at the Human Rights Council in March this year; Ban Ki Moon, the Secretary General of the UN has made his support for the human rights of LGBTI people very clear; ILGA is approaching 1000 members and our annual report on state-sponsored homophobia has become and important global tool for LGBTI human rights advocacy. At the same time it is evident that we as a movement have some challenges and important discussions ahead of us on how we as a movement act in solidarity without taking over the voice of those we advocate for. These are discussions we will engage in at the conference in Stockholm!
In addition we will get together and share experiences and best practice, learning from each other and creating stronger and sustainable networks.
The conference will start Wednesday December 12 and will be preceded by some thematic pre-conferences – more information on these is forthcoming!
ILGA offers scholarships for activists who would otherwise be unable to participate in the conference for financial reasons. Since there is only a limited number of scholarships available, we encourage those interested to seek funding in advance within their own organisation or from other available funding sources.
Thanks to the extensive ILGA membership this is a truly international event that represents an ideal opportunity for strategizing, networking and building alliances.
We look forward to seeing you in Stockholm!
Gloria Careaga
 Renato Sabbadini
ILGA Co-Secretaries General
For Registration, please click on this
…